WNCC Meeting Minutes
August 13, 2001 Meeting
The Waccamaw Neck Computer Club met at the Pawleys Island Library at 9:30am on August 13, 2001. The scheduled speaker was Shawn Montgomery from Radio Shack Service Center in Charlotte.
Five new members attend this mornings meeting. We would like to welcome Ron Hammond, Barbara Horton, Stanley Kasper, Rosalie Spaniel and Tom Turner to the Waccamaw Neck Computer Club.
John Wyckoff started the meeting by discussing the status of the talks between Waccamaw Management and Time Warner regarding a bulk rate arrangement on Roadrunner service for all the property owners of the Litchfield-By-The-Sea communities. All the residents have received a questionnaire to fill out and send back to Time Warner. Time Warner will consolidate the questionnaire and make a business decision about a bulk rate. They will get back with Waccamaw Management . We do not have the time table.
Shawn Montgomery discussed the services RadioShack Service Centers provide, the reasons why their service is superior to other service companies, and what their agreement and pricing plans are. Shawn passed out a sample pricing sheet, an application for service plans sheet, a brochure on Radio Shack Service Centers, and his business cards. We have a few extra hand outs that will be made available at our next meeting. The meeting stimulated many questions and answers and we all found it interesting and informative. We thanks to Shawn for making the trip down from Charlotte.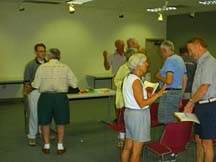 (Shawn Montgomery and Jack Harrigan) (After meeting discussions)
Following Shawn's presentation, we held a question and answer period. Many questions were asked and answered. Hopefully our members went home with the correct answers!
Next months agenda will cover; (1) using one internet connection for multiple computers and getting out going telephone service for a nominal charge, and (2) an introduction to spreadsheets using Microsoft Excel.
Remember, we have a Waccamaw Neck Computer Club web site. The URL is: http://wnccsc.tripod.com. The meeting minutes and the agenda for future meetings are posted on the web site. The agenda items will be posted as soon as they are scheduled. Links to Clem Thoennes' web site lessons are also provided. In the future we will be including a favorite link page on the web site. The way links will get on the page is by members bringing there favorite link to a meeting and presenting to the members at the meeting why it should be included.
Please all try to attend the next meeting on September 10, 2001 and invite a friend or neighbor to join you. See you in September.
This page was last updated on 08/22/02