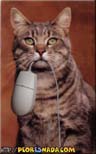 Our Computer Club has been fortunate to have Clem Thoennes as a member. Clem had developed a number of computer lessons that he had set up on his web site. Prior to each Club meeting Clem e-mailed to each member the web site link to get the lesson. The members then studied the lesson prior to the meeting. At the meeting he then presented the material and answered questions.
These lessons have made it possible for many of our less experienced members to get started with computers and for more experienced members to pick up many useful pointers.
The lessons are available for you to take advantage of as well. Just click on the links below.
E-Mail - Everything E-Mail
Using Outlet Express for E-Mail
This page was last updated on 08/22/02